Booklet of Good Wishes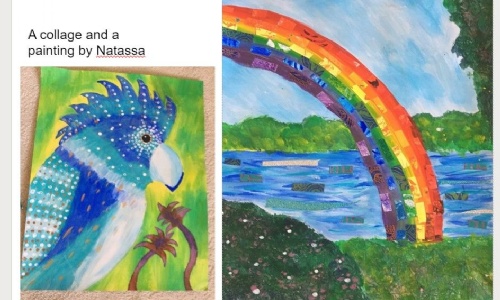 Pupils at King's High School have compiled a 'booklet of good wishes' which has been distributed to nursing homes in collaboration with the charity Kissing it Better.
The booklet contains pictures, creative writing, artwork and uplifting thoughts written by the girls. The booklets have been incredibly well received and the girls are hoping to produce a follow up booklet in the summer term.
A selection of some of the work is below, and the full version of the booklet can be downloaded at the bottom of this page.
Linda Atkinson, General Manager of Leycester House Care Home commented, "Thank you so much for the lovely collection of images and messages. I really enjoyed reading about how you (KHS girls) are all spending your days at home, learning new talents and more importantly, appreciating the little pleasures in life.
Like you, the residents at Leycester House are missing their families and friends, but they are coping very well. They love the stories and the events team are organising some responses and maybe the residents can tell you some stories of their own. If ever there was a time to make new friends, it is now!
One message particularly stood out for me, 'stars cannot shine without darkness'.
Both my wonderful residents and my amazing team of staff are my 'stars'. They always shine, but even more intensely in the dark. Keep safe."
Some of the residents commented, "A huge thank you to you all, your letters are delightful to read, and the art work is great. It was lovely to share what you have been doing, and you're right "the sun will shine again." Lucy. "Wish you all the best for your exams and studying in whichever way they decided to do it. Take good care of yourselves and God bless." Ella.
Thank You from Jill Fraser, CEO of Kissing it Better
To everyone involved in the making of this imaginative book
Thank you so much for creating such a wonderful 'Booklet of good wishes' for residents in care homes across Warwick, Leamington Spa and Stratford to enjoy. Its fabulous mix of stories, poems art, photography and games ensures that there is something for everyone.
There is a real theme of hope running through its pages. The words and pictures convey a lovely feeling of the colours of Spring. To take the time to create something that has such a personal feel to it will mean so much to the people you are reaching out to at this very challenging time. Everyone is affected in different ways but, for those trapped in care homes, unable to see their loved ones, the situation is particularly difficult.
I am aware that many of you may be separated from close members of your family, maybe someone who is in a residential home or hospital. Although nothing can replace seeing close family members, the messages conveyed in your very special gift reminds those who read it that they have not been forgotten by the outside world.
Alongside the delightful accounts of daily life, there are some powerful, simple thoughts and images. I know that those that see the book will be uplifted by the charming paintings, sketches, photographs and imaginative words.
You will have already seen some of the feedback. It is a book that can be revisited. It is also a book that can be easily shared. The majority of people who see it will have been born and brought up in this area so will feel a very special connection with it as they recognise the places you so powerfully describe.
Across the eight years Kings High has been visiting Warwick hospital, I have been endlessly touched by the time and commitment you have given to those less fortunate than yourselves.
This booklet is a shining example of your creativity and your thoughtfulness.
On behalf of all those who have seen the book but may be too frail to respond, I should like to thank you so much for such a touching gift.
Best wishes
Jill
Jill Fraser, CEO and co-founder, Kissing it Better, mail@kissingitbetter.co.uk